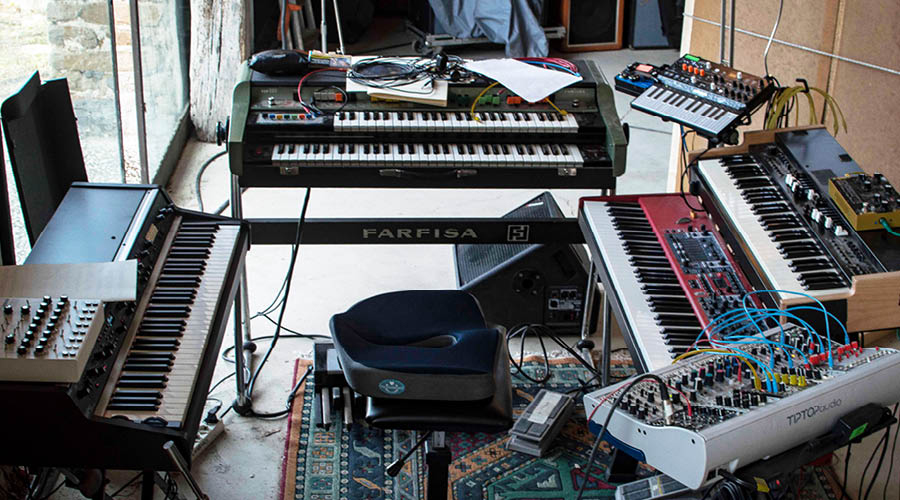 Experiences at Crinale go beyond a simple recording.
This is why it must be more than just a recording studio. In a 100% creative context, where inputs can swarm in at any moment, the instant must be captured following events and emotions: with adequate tools such as versatility, sound, and character.
Crinale's first and most important resources is no less than its recording environment.
A room with a patio of roughly 250sqm, made in ancient stone and wood, with a maximum height of about six meters, where any setting becomes possible, from the small combo to the orchestra. It boasts an extremely musical natural reverberation, and at the same time can easily be set up with insulation panels. The room opens onto the valley with four-meter-high windows, which allows you to work with natural light for most of the day.
THE INSTRUMENTS
Our recording approach requires a lean technical setup without sacrificing the quality and warmth of the analog equipment. We chose to manage and "feed" the signal hub phase with a new / old 24-channel mixer from Lombardi Amplificazioni, rebuilt on the '70s model, revised and modified by Lombardi based on our specific needs. This allows us to pre-amplify part of the microphone signals, equalizing them in the grip phase, and at the same time managing the monitoring towards the musicians. We also have a variety of extra outboards - always expandable - with which to further enrich the sound palette. If necessary, we have a pre-Chandler tg2, Chandler Germanium pre 500, Empirical Labs EL9, Burl Audio B1d, Grace Design M501, Daking mic pre 500, ATI mx2 without forgetting a Calrec, DBX, and Warm Audio.
The active collaboration with L'Amor Mio Non Muore further enriches our equipment.We have an ample selection of microphones, both vintage and modern (Akg, Aea, Shure, Neumann, Electrovoice, Lombardi), which can be expanded upon request. Depending on the type of production, we tend to prefer shots that provide an image that "best" reflects the sound event. From this perspective, rest assured that both the outstanding natural reverberation of the hall and the bleeding between instruments contribute to a unique musical paste – depending on the dosage required for each individual project.
MIXING
Once the shooting is complete, we offer different types of mixes upon request, each with its own specificities. Several projects that were recorded at the Crinale were mixed in analogue at the L'Amor Mio Non Muore studio where a historic Argentini EP-6000 mixer is installed around which outboards and effects rotate such as Lombardi's echo on disc and plate, Roland RE-201, Echoplex EP- 3, Pioneer SR-202W, AKG BX-22E, as well as tape machines such as Studer A80, Telefunken M15A, and Revox A77.
Other discs are mixed in a hybrid digital / analog setup at Ivano Giovedì's Waveroof Studio, supplied with some specific mastering-grade equipment and a vast world of analog sounding plugins, based on Universal Audio processors.
We also explored various contaminations between the two worlds and studios, obtaining excellent results.
COMMUNITY BONDING, SOUND
Something of great value to us. From the very first day, by virtue of its very particular identity, Crinale has chosen not to place itself in "competition" but rather in collaboration with other recording studios, professionals, and sound engineers. We are not jealous or possessive when offering our spaces and instruments to other technicians, producers, and sound engineers for their respective productions. Crinale hosts very particular workspaces and residential possibilities, which not all studios can offer, and we are glad to do so. It also hosts a set of guitars, amps, keyboards, synths and vintage effects with very frew comparisons. Each of the recording studios in our area has high level experience, instruments, and equipment. When the projects required it, joining forces on the territory makes it possible for us to respond to any need, whether national or international, and do so with style and personality.
Crinale has also been collaborating for years with excellent mixing and mastering studios in the United States.
Come and visit or contact us here.
(text written in collaboration with Ivano Giovedì, sound engineer)